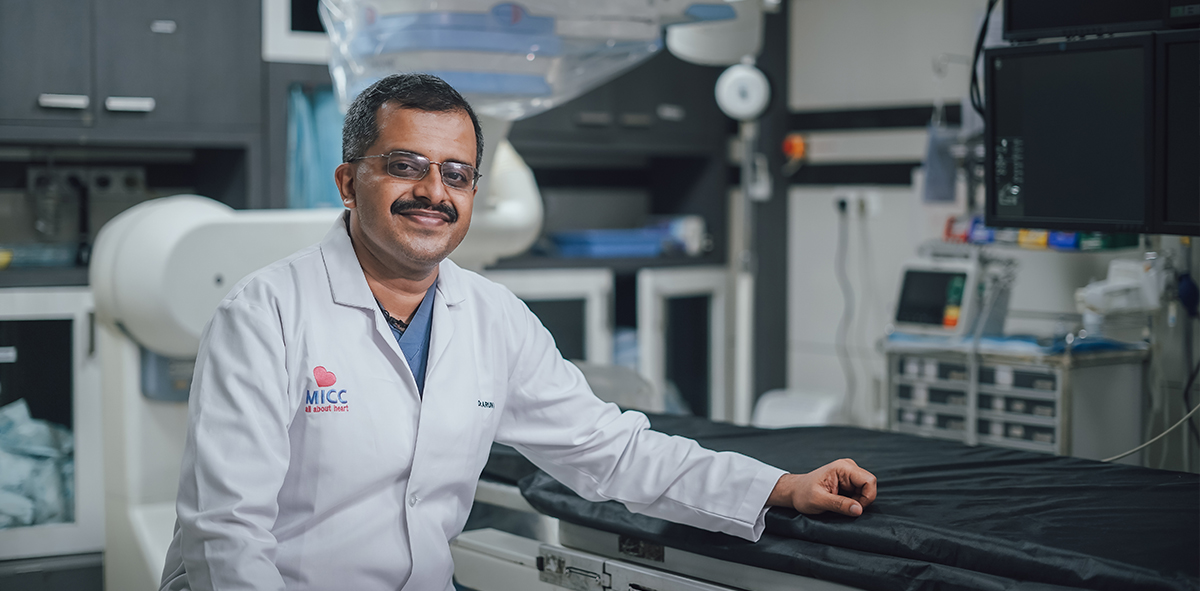 Electrophysiology
The Electrophysiology section deals with electrical system problems in the heart (arrhythmias). Some of these irregular heart rhythms can lead to fainting, shortness of breath, and even death if left untreated.

MICC is one of the leading hospitals providing heart rhythm treatments in Kerala. We have a devoted team of physicians, nurses, and other personnel at Metromed International Cardiac Centre that work together to provide each patient with a personalized regimen to his or her specific needs. Department was established under the dynamic leadership of Dr. Arun Gopi.
Our hospital is the first in North Kerala to have a state-of-the-art Electrophysiology Department with 3D electroanatomic mapping capability, which treats all types of rhythm abnormalities. Radiofrequency ablation is a minimally invasive technique performed under local anaesthetic that only requires one or two days in the hospital. In many cases, this developing technique effectively heals these troubling arrhythmias, and the patient can be free of drugs for the rest of their lives. Patients with arrhythmias and heart failure can receive effective and comprehensive therapy from the MICC Cardiac Electrophysiology Services. Non-pharmacologic, Curative Catheter ablation procedures for all types of supraventricular and ventricular arrhythmias, 3-D electroanatomic mapping and ablation, non-invasive risk stratification for arrhythmias, device implantation, and renal denervation therapy are among the diagnostic and treatment services we provide. We also supply up-to-date implanted devices for those who require them.
Services and Procedures
Diagnostic EP studies
Radiofrequency Ablation (RFA) of Arrhythmias
3-D Electroanatomic Mapping
Pacemaker and ICD implants and follow-up
Biventricular pacemaker (CRT-P/CRT-D) for heart failure
Renal Denervation for refractory hypertension
Implantable Loop Recorder (ILR) for evaluation of syncope